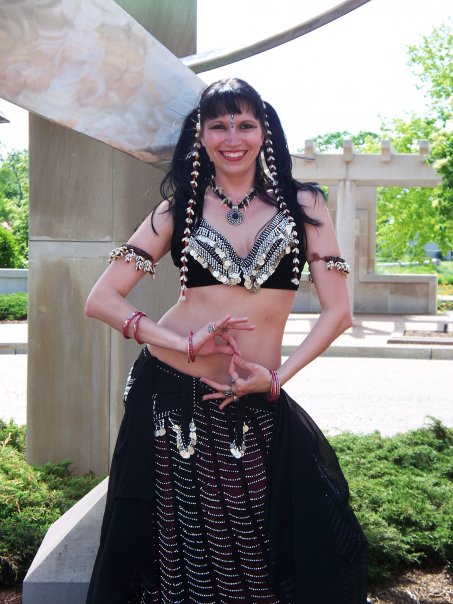 Carenza Bint Asya's Bollywood For Bellydance
Carenza Bint Asya will teach her awesome Bollywood for Bellydance workshop. 2pm-4pm April 24th at Sterling Yoga [2889 Glenmore Ave Suite One, Dormont, PA 15216]. $25 before March 24th. $30 after and at the door.
Registration open January 26th 2010.
Meet and Greet Social Halfa at 7pm on
Friday April 23rd
at Sterling Yoga, $8. Live music by Pittsburgh's
Ishtar
Vintage Bellydance Band.
Fundraiser to bring Jim Boz to the 'Burgh
Carenza bint Asya is a tribal fusion belly dancer, who has been studying Middle Eastern Dance, its different forms and history since 2000. Carenza is the director of Carenza's Caravan, Tantric Trio and a student troupe. Carenza travels throughout the Midwest hosting events, performing, and teaching.
Carenza became interested in Indian dancing for ideas on hand placement and gestures while performing. Once she saw the movie Devdas, she was hooked and began the search for more information on Bollywood and a teacher. Under the direction of Gulshan Ahmed, who was born in Bangladesh, she was taught both traditional and Bollywood forms. Carenza has also been inspired and had the pleasure of learning from Samantha of Boom Boom Bollywood, Megha Gavin, Kami Liddle, and Samira.
This workshop will be a compilation of belly dancing and Indian dancing in both traditional and Bollywood forms. Participants will be taught to use their hands, foot-work, and eye coordination to make their choice of dance more graceful and elegant. A short choreography will be taught using the movements/combinations learned in class.