Pittsburgh Festival Nouveau
April 4th - 6th, 2014
First Pittsburgh Festival Nouveau, a celebration of dance and circus arts.
For more information, contact
info@hakandances.com
or 970.823.2623
WORKSHOPS
Onca Workshop : Burly-Curious?
Saturday, 11am to 12:30pm
This sassy class emboldens bellydancers who are titillated by the idea of taking control of, and being comfortable with, their own sensuality on stage. That's YOU. You've trained, dreamed, costumed, and now are ready to share your power.
Our friends in Burlesque have so much fun, artistic freedom, and an important role in making our world a better place through showing how joyful empowerment can be. You can have all that too, while remaining true to yourself as a bellydancer!
Also... this class funny as hell. Hilarious fun for the greatest cause: empowering YOU.
Paolo Workshop : Find the Funny: Comedy Workshop
Saturday, 2:15pm to 3:45pm
Did you know there's a formula to making things funny?
Have you ever wondered why some things you say get a laugh - and other things you say don't? This class breaks it down into a simple formula (don't worry, there's no math). We will discuss the basic principles of comedy and workshop some examples through our own experiments in class. Bring a short piece or an idea to work from. You will come out with a new understanding of how to create stage comedy, and direction to move forward with new material of your very own.
Onca and Paolo Lecture : Can You Make a Living Doing That
Saturday, 1pm to 2pm
I was once asked by an audience member, "Can you make a living as a bellydancer?" Stunned for a moment by the perfect, courageous, direct query that set me thinking, I realized: "It depends on how you define 'a living'."
The short answer is yes, the informative answer is quite a bit longer. It takes a truly driven artist to work full-time in our field over the duration of a career, and a smart entrepreneur to turn this love of art into security for the future. We'll map out the many elements to be pieced together to make a career, a quilt of skills, from teaching, gigging out, running a studio, event promotion, grants and passive income and more. Make notes!
Maria Workshop: Let's Get Folked Up
Sunday, 11:30am to 2:30pm
Want to add a little more earthy appeal to your dance? In this workshop ll take village dance and bring it to the modern stage. ll respectfully pull inspirations from Tunisia, Egypt, Turkey, India & Central Asia then add western Dance Aesthetic to some fun combinations ll want to take home to your troupe or solo repertoire. s get FOLKED up! ;-)
This is a three hour workshop! So come prepared.
Maria Lecture : A dancers plan- an individualized guide for your personal practice
Sunday, 10am to 11am
If you have a hard time scheduling dance into your busy day, too much material but never the time to do it or you simply forget to, then join in this lecture! We will discuss & plan out new ways of setting goals & charting your fitness, health & dance life with new & creative tactics.
I will provide tools to help you or you & your peers to work together to help motivate each other & keep each other at task. We will talk about how to carve out time in your schedule for meditation, history, musical interpretation, drills, props, stamina, strength & flexibility or your special individual goals or needs. With the handouts I'll also help you plan & organize a personal routine to help you become the dancer you've always wanted to be!
SHOWS
Friday Show : A Night at the Circus
Hoops, Aerials, Music, Comedy, and a Clown or two!
Join us for a family friendly Night at the Circus! Enjoy some of Pittsburgh's finest in circus and side show arts. Featuring Madame Onca O'Leary and Paolo Garbanzo from down South!
Featuring face painting by local artist Lauren Toohey!
Family Evening FUN! At Pittsburgh Dance Center
4765 Liberty Ave,Pittsburgh, PA 15224 4/5 - 8pm
Saturday Show : World Dance Exploration
VIP Dinner
5:30pm to 7:30pm, April 5th SOLD OUT
Would you like a chance to dine with the headliners of the Night at the Circus and the World Dance Exploration? Would you like to see live art from local artist Lauren Toohey created as you eat? Spaces are limited, so register soon to reserve your space!
Silent Auction
Pittsburgh is home to many fantastic artists. Take home a tangible memory of the evening by bidding on any of the masterwork pieces on display.
World Dance Exploration
8pm to 10pm
Travel around the world through music and dance. This evening of dancing will have Salsa, Belly Dance, Filipino dance, Bhangra and Classical Indian dance, with perhaps a surprise or two. Our featured performs are Karianne, Bee Law, PDC Salsa, to name a few. Plus, our headliner will be Maria Hamer.
INSTRUCTORS
Madame Onça, the Hardest Working Woman in Show Business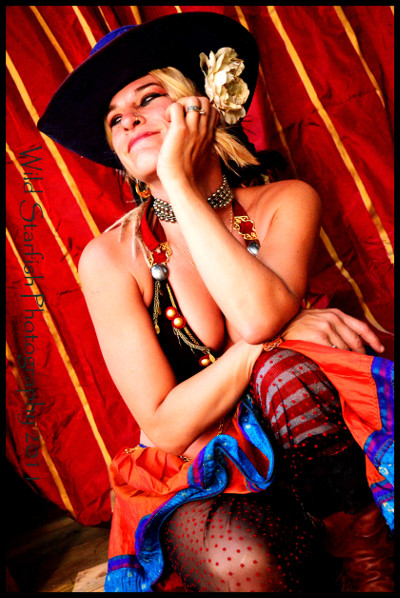 Madame Onça, aka Lauren O'Leary, is a career entertainer, event producer, nationally touring performer, and internationally published author and artist. She stages several major festivals annually, as well as myriad other events. Staged in Asheville, NC, her award-winning ABSfest: the Americana Burlesque & Sideshow Festival, is going into its 8th year of bringing together artists from around the world, and her Richmond event, the Virginia Burlesque & Sideshow Festival, is in its 2nd year. Onça's annual bellydance festival, TribOriginal: Dance, Music & Culture Camp ran for seven years, and was nominated for Best Event, and her dance company Baraka Mundi was nominated likewise for both Best Kept Secret and Best Dance Company.
She travels internationally, presenting her torchsong bellydance antics to avid audiences. Madame Onça toured for five years with Balkan fusion project the Mezmer Society, and for ten years with the Accidental Circus, directed by Jester of Muncaster Castle in England, Paolo Garbanzo.
Onça writes frequently for America's bellydance publications, and also illustrated and co-authored The World Spirit Tarot, hailed as an instant classic, which has been translated into Spanish. It is her stalwart belief is that "The greatest expression of Rebellion is Joy."
Paolo Garbanzo, Jester of Muncsater Castle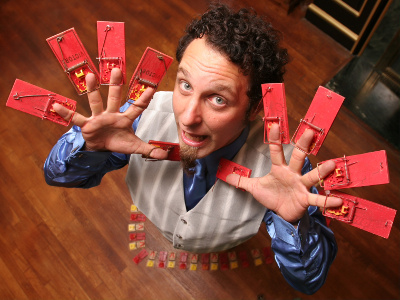 Paolo Garbanzo has been performing comedy shows for over 15 years, taught in circus school in Italy, was one of The Flying Karamazov Brothers, and is the only American to win the International Jester Competition at Muncaster Castle in England. Performing his show in three languages and 10 countries, his comedy skills are world wide. He is now also a resident of Richmond, VA.
Maria Hamer
Maria Hamer is born & raised in Pittsburgh, Pa, she began training in dance & art at a young age. She was fortunate enough to be raised in a large family who spent the majority of their daily activities learning & studying all forms of dance & art. Throughout her dance training, Maria has always focused on health and well being. For 10 years+ she has studied and trained on and off with Pilates & Yoga disciplines. Currently she lives with her husband (Erik "Angus" Douglass) & son (Kai) & new baby daughter (Pepper Joan), near the Pittsburgh area & teaches regularly at Dance America in Bellevue.
VENUE
Pittsburgh Dance Center
All workshops and performances take place at the Pittsburgh Dance Center, located in the Bloomfield neighborhood of Pittsburgh